Know your tools
If you are worried about your gambling habits or you want to know more about the signs of compulsive gambling, try this self-assessment test or ask yourself the four questions below:
Is gaming interfering with your work or other responsibilities?
Are you trying to make up for prior gaming losses?
Are you recovering from an addictive disorder?
Do you play under the influence of alcohol or other influences?
We offer a number of tools for you to control your level of play and keep enjoying the game:
Download your player history
To review your account activity you can download your player history.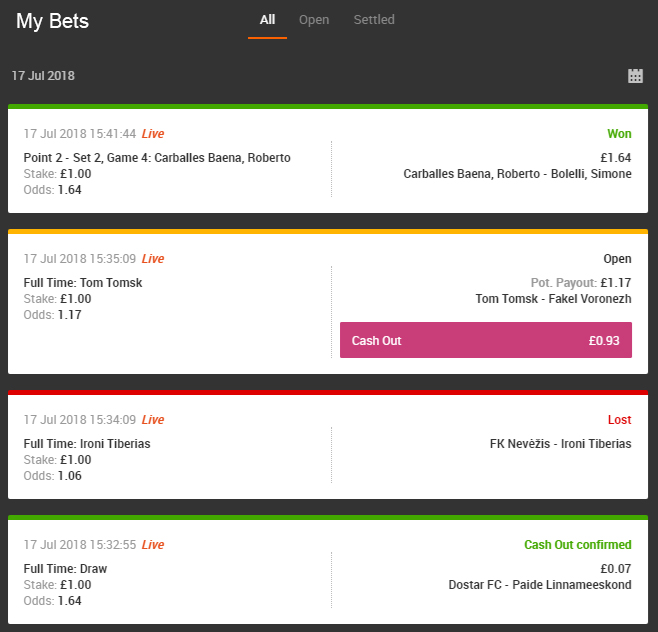 Game Time Reminder (UK)
You can set a "game time" reminder to keep track of the time you've spent playing on casino games. This tool will alert you to how much time you've spent playing so you can make an informed choice about whether you wish to continue.
You can activate a game time reminder when playing through the Settings tab.
Deposit-limits
To ensure you don't spend any more than you're willing to lose, you can set a limit on the amount of money you deposit and request to adjust this at any time. Decreasing your deposit limits will apply immediately. If, after careful consideration, you decide to increase your limits again, this will take 24 hours to be applied. You can set your deposit limits online through the cashier or by calling our Member Support Team at support@888.com.
To find out more about Deposit Limits, please click here.
To login to your account and set deposit-limits click here.
"Take a Break"
If you feel uncomfortable with your level of play, you can choose to "Take a Break" and suspend access to your account for up to six weeks. During a 'Take a Break' period, we will suspend your account on the specific requested brand only. Your account cannot be reactivated until the selected time period has passed.
You can request a "Take a Break" period by contacting our Member Support Team at support@888.com. To find out more about Take a Break, please click here.
To login to your account and take a break click here.
Self-Exclusion
If, at any stage, you become concerned about your gambling behaviour, you can request a six months or more self-exclusion period. Should you choose to self-exclude from the websites operated by us, we shall terminate your account(s) with us and will make every effort to detect and terminate any new accounts you may open, according to the exclusion option selected by you.
To login to your account and self-exclude click here.
During a self-exclusion period, the suspended access will be enforced and irrevocable. If you wish to reactivate your account after the self-exclusion period has ended, you must call the Member Support Team to request reactivation. There will be a one day cooling-off period before we are able to provide you access to your account.
To find out more about Self-Exclusion, please click here.
If you are considering self-exclusion, we strongly suggest that you exclude yourself from all other gaming companies and seek professional help. You can also consider the following software which will help to prevent your computer from accessing online gambling websites:
Cyber Patrol GamBlock Net Nanny Gamban 
GAMSTOP
888 is fully integrated with GAMSTOP, a free service that enables you to self-exclude from all participating online gambling companies licensed in Great Britain. To find out more and to sign up with GAMSTOP please visit www.gamstop.co.uk.
Close my account
For reasons unrelated to responsible gambling, you can request an account closure. Such accounts can be reopened at any time upon request or you may also choose to register a new account.